BOSA Beer Association
BOSA is an academic beer association that operates mainly at University of Tampere. BOSA's mission is to educate people enjoying their beer and improve their beer knowledge. We also held occasionally cider, whisky and wine tastings. You can also arrange your own event through us, contact us for more information. We also brew own beer (brands named Kyyrö and Lahtinen) and cider (Penttilä) and teach traditional brewing.
Follow us on Facebook, Twitter and YouTube
You can follow our Facebook fan page and our mascot Hauska Bosasetä on Facebook! You can also follow us on Twitter, all international events are informed in English.
We also update our BOSAtv pretty frequently, so keep in touch and subscribe to our Youtube channel!
Events
BOSA are arranging many events during the year and we are a exchange student friendly organization, so feel free to participate! You can find information on the front page events listing, there's also information in English for events that is any fun also for non-Finnish-speaking students.
Monthly we arrange tasting events in Gastropubs, which are held in Finnish. Feel free to join in, usually costs 10 euros and requires membership.
We also arrange events during Finnish labor day, Vappu and of course some pre-Christmas celebrations. Most known international event is Oktoberfest, which is around October/November. Keep posted by following us on Facebook.
If you have questions, feel free to contact us bosaposti@gmail.com.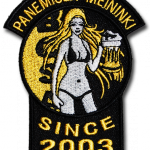 BOSA membership and member badge
BOSA membership and membership badge 5 euros. Purchase yours from Boomi ry office (next to Linna building)! After paying your membership, you can participate to all our events.
You can wear the badge in your overalls and the right place for this badge is in the sleeve, three fingers from the sleeve cuff, so when the sleeves are tied up to your waist, the badge is visible.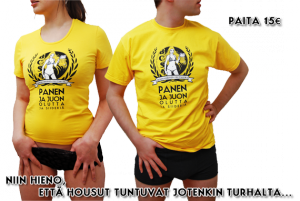 Merchandise
Wanna get a cool memorabilia t-shirt of BOSA? The official t-shirt is available now and you can get yours by e-mailing your name, size (from S to XL, also ladyfit available!) Get yours from Boomi ry office (Pinninkatu 59).
Cost 15 euros.
Yellow is the new black!
BOSA Advertisements by exchange students